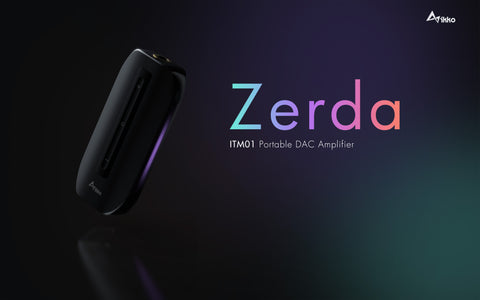 Whether you are a music lover, a gamer, or one who loves watching movies, sound quality can't be compromised in either case. If the sound of your headphones feels quiet or dull, it's time to buy a headphone amplifier. With a wide variety of amplifier brands available in the market, it is difficult to choose the right one for your device.
Let me introduce a newly launched portable headphone amplifier to you. IKKO Zerda ITM01 is explicitly designed to provide an improved sound experience no matter wherever you are. It is an ideal solution for everyone who uses phones, laptops, PC, game consoles, or other devices.
Without wasting your time, let's get straight into its details, features, and a complete guide on how to get the most out of it.
Spectacular Specifications Of IKKO ITM01
Decoding rate:
Pulse Code Modulation: 32-bit output with the frequency of 384kHz
DSD: Dop128
Signal to noise ratio (SNR): Approximately 118dB with 32Ω ( A-Weighting )
Frequency response: The output of -0.5dB with a frequency range of 20Hz - 40kHz
Output impedance: 0.8 ohms
Impedance: 16 ohm-600 ohm
Output Power:
125mW with 32Ω
2V with 32Ω
Headphones Jack: 3.5mm
Datalink cable: Lightning or TYPE-C cable
DAC Magnetic Cable Adapter (Detachable)
Features Of ITM01 You Must Know About
Here are some of its striking features that will make you buy this portable headphone amplifier for your high-end headphones.
Three Modes For Free Switching
The best thing about ITM01 is its three modes that can be switched freely depending on the user preference. These are audio, movie, and game mode. Thus, you can enjoy a customized sound experience right according to your current mood.
If you are a gamer, you might be thinking, will it be compatible with my gaming console or not. Don't worry about it. The IKKO IMT01 headphone amplifier can be connected to any console easily. Moreover, the switching between these modes is made easy for the convenience of our customers. Just long-press it for about 3 seconds and enjoy your time.
Customized Magnetic Connection Mode
Its magnetic connection model provides you with a smooth and high-quality sound without any interruption. It is because the signals are protected from interference. In this way, the transmission rate for audio data has increased by many times. Thus the sound quality of your headphones is enhanced.
Furthermore, this customized magnetic connection mode is simple to use, just like the switching mode. You have to connect the amplifier with the cable port and turn on this feature, and you are good to go.
Multi-System Compatibility
There is no need to buy separate gadgets for different devices. IKKO IMT01 is equally compatible with mobile phones, tablets, laptops, PCs, and gaming consoles. All you have to do is to connect it with the target device through the USB cable provided. Thus, it works as an SD card that can be used anywhere.
Compact & Portable Design
The amplifier has a lightweight and handy design that is convenient to carry and simple to use. You can take it anywhere in your bag or even in your pockets. Plus, there is no need to install the driver manually after connecting the amplifier. It comes with an already built-in adaptive driver in it.
High-Performance Decoding Chip
DAC, which is digital to analog conversion, is used to convert music files into an analog signal so that you can hear it through your headphones. IKKO ITM01 comes with a decoding chip that provides you with the best quality sound. Its high-current power supply and noise cancellation is the reason behind this.
How To Use?
To get the most out of your headphones amplifier, follow the instructions given below:
While connecting your phone or any other target device, make sure to join the data link first. Doing this will safely link both devices without any risk to your data.
The IKKO ITM01 has three free modes that are games, music, and movie mode. A system of indicator lights on the amplifier turns on whenever you connect a device with it. So you can identify and change the modes while looking at the different colored indicators.
For instance, the game mode has a purple color, the movie indicator is light blue, while the music mode displays orange color.
Volume can be changed with the two buttons present on the upper side of the amplifier body. There are two options, namely '+' and '-'.
You can switch to different modes by long-pressing the mode switch button right between the two volume keys. You have to press it for about 2 to 3 seconds. The mode switch is the same button that can be used to pause or play the music.
When you are done, remove the data link first. Then you can safely disconnect your device after that.
How To Store & Maintain Your Device Performance?
Store it in a cool, dry place that is free from all kinds of moisture.
Don't apply so much pressure on the product while using or carrying it in your bag.
Try to avoid using it in a humid environment or the rain.
It will help if you don't use it in dusty areas.
Plugin the magnetic cable only when required. Attaching and separating it multiple times can result in a malfunction.
Before wearing the headphones, lower the volume of the amplifier to avoid its damage.
Conclusion
Getting a headphone amplifier is a good decision if the sound from headphones is not that good. But investing in the right one that will serve you in the long term can be a bit tricky. For your convenience, we have reviewed one of the best portable headphone amplifiers for you. Have a look at its specifications and features and see how well it can suit you.